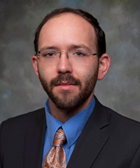 Joe Regalia loves working with lawyers, judges, law students, and others who want to become better legal writers. He regularly teaches and conducts workshops on all sorts of writing topics. He emphasizes the power of cognitive science--both in how we communicate with our legal readers and in how we develop our own skills.

Check out his recent legal writing articles here:
Grammar Bots Can Help Fix Your Legal Writing
Building Rules Instead of Finding Them
The Pitfalls and Power of the Paragraph
Your Legal-Writing Voice and the Quotations that Drown it Out
The Approaching Legal Writing Disruption?

What a Doctor of Design Can Teach You About Legal Writing

The Art of Legal Writing: The Sentence
Pulling on the judicial heartstrings: emotion-laden language in legal writing
You shouldn't always write like Hemingway: the ideas behind your sentences.
Who cares about the law? Legal writing with emotion.

Make Sure You're the Lawyer that the Judge can Trust
Writer's Block and Productivity: The Lawyer's Editition
Playing well (as a legal writer) with others
Evidence-based legal practice--is it possible?
Making conciseness work: Content-word editing
Find the right answers, then ask the right questions
Issues issues everywhere, but not a one makes sense
Leveraging Technology as a Legal Writer
Programming your Writing Intuition
A young attorney's most important writing--Emails
Second Time's a Charm: Failing the Bar
Check out my long-form articles below:
Bringing Insurance Counsel in From the Cold, New Mexico Law Review (forthcoming 2018)
Public Waters; Private Waters: Who Decides? Cleveland Symposium (forthcoming 2018)
Interstate Groundwater Law Revisited: Mississippi v. Tennessee, 34 VA. ENVTL. L.J. 152 (2016) (co-authored)
Lines in the Sand: Interstate Groundwater Disputes in the Supreme Court, Nat. Resources & Env't, Fall 2016, at 8 (co-authored)
The Common Law Right to Information, 18 RICH. J.L. & PUB. INT. 89 (2015)
Navigating the Law of Ex Parte Communications with Treating Physicians, 31 J. CONTEMP. HEALTH L. & POL'Y 35 (2015) (co-authored)